Our Supporters
About the American Red Cross
The American Red Cross shelters, feeds and provides emotional support to victims of disasters; supplies about 40 percent of the nation's blood; teaches skills that save lives; provides international humanitarian aid; and supports military members and their families. The Red Cross is a not-for-profit organization that depends on volunteers and the generosity of the American public to perform its mission. For more information, please visit redcross.org, cruzrojaamericana.org, or visit us on Twitter at @RedCross.
About the Partnership for Food Safety Education
We are deeply indebted to the Partnership for Food Safety Education* for the valuable support and key insights they have generously provided during the development of the Scrub Club®.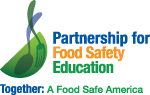 The PFSE delivers trusted, science-based behavioral health messaging and a network of resources that support consumers in their efforts to reduce risk of foodborne infection. In addition to Federal liaisons from the USDA, FDA and CDC, the PFSE is supported by our Contributing Partners.
*The PFSE is a 501(c)3 not-for-profit organization formed in 1997 to develop and promote effective education programs to reduce foodborne illness risk for consumers.